File and Folder Collaboration
The true spirit of Procorem is the ability to collaborate with a variety of internal and external project participants in a central and auditable environment—securely available anytime, anywhere. With that in mind, the file and folder collaboration capabilities take you there.
In the File & Folder Management section, we detailed the ability to move, copy, update status, update type, and delete files. Beyond basic file management is the ability to attach comments, view versions, and record activity across all file activity.
Commenting on files in Procorem allows you to keep your entire team on the same page around files updates, questions, comments, and more. All files made are tracked and recorded next to a picture of the person commenting and are fully integrated with email alerts to keep your team informed up-to-the-minute.
Navigate to the folder or WorkCenter with the file, and then click Details on the file line item.

Once in the file record, click the Comments tab. Here you can see all previous comments associated with the file as well as make new comments.

After a comment is made, an email alert is sent to all WorkCenter collaborators. Team members who receive the email can click the link and head right to the document to add or review the comments or simply reply to the email and their comment will be recorded in the Post section of the WorkCenter.
For more information on email notifications, see the Notifications in Procorem section of the Help Center.
Next to the Comments tab is the Versions tab. Procorem stores all versions of the file ever uploaded. Versions can quickly be restored or deleted by a collaborator with appropriate rights. To download, restore, or delete previous file versions, navigate to the Versions tab and click the button for the action you would like to perform.

Procorem supports the ability to associate a file with multiple tasks. With task associations, you can manage and automate approval processes and review centered on documents. By clicking the File(s) tab, you will see all associated tasks to a particular file, tasks due date, current task status, as well as number of assignees and approvers associated with that task.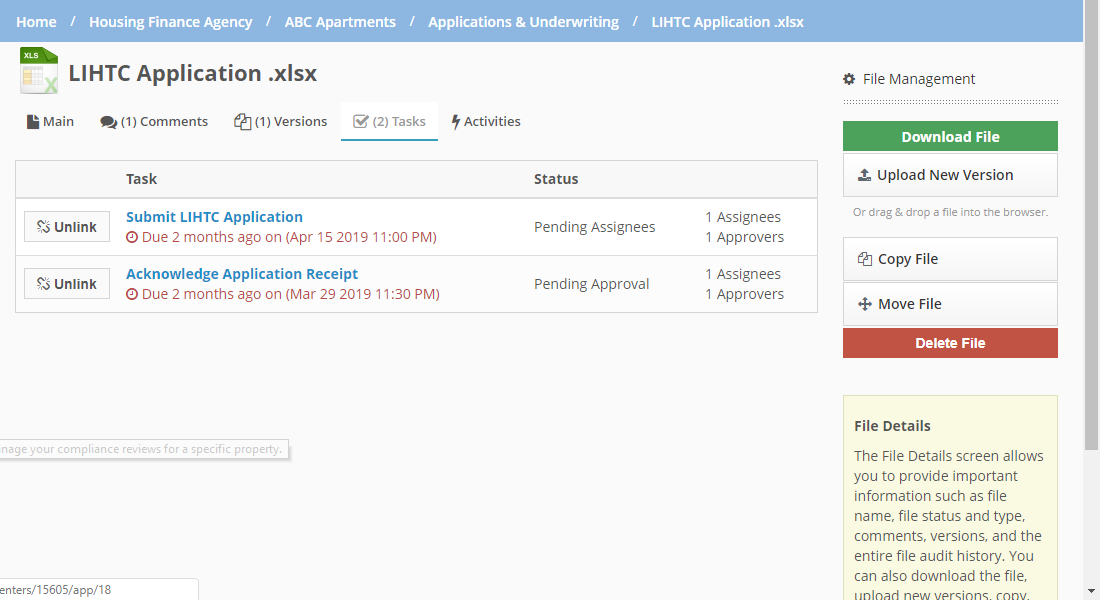 For more information on how Procorem files interact with tasks, review the Linking Tasks & Files Help Center article.
For a quick snapshot of all the activity that has ever taken place on the document, click the Activity tab. From here you can see who has uploaded, downloaded, commented, moved, copied, or performed any other action associated with the file.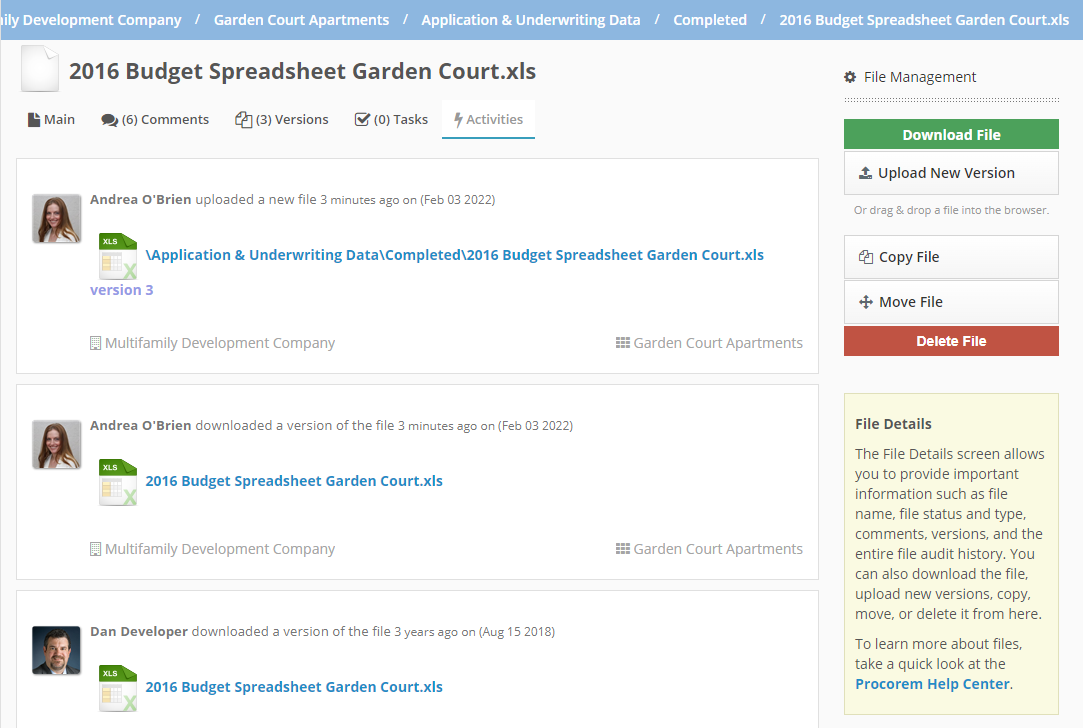 For deleted files, you can view that activity on the WorkCenter activity feed. See the Activity Introduction article to learn more about activity in Procorem.