Procorem keeps a complete audit trial of all the activity which has taken place on your projects. Procorem stores this record to ensure that key project deliverables, actions, and decisions are monitored and tracked to keep a complete project history for your team.
As your organization evolves and grows, keeping this record and institutional knowledge of what has worked, what didn't, and why will keep you one step ahead of your competition regardless of the industry that you are in. For those industries with compliance requirements, Procorem serves as a complete project record that can be securely shared and audited by regulatory agencies as required.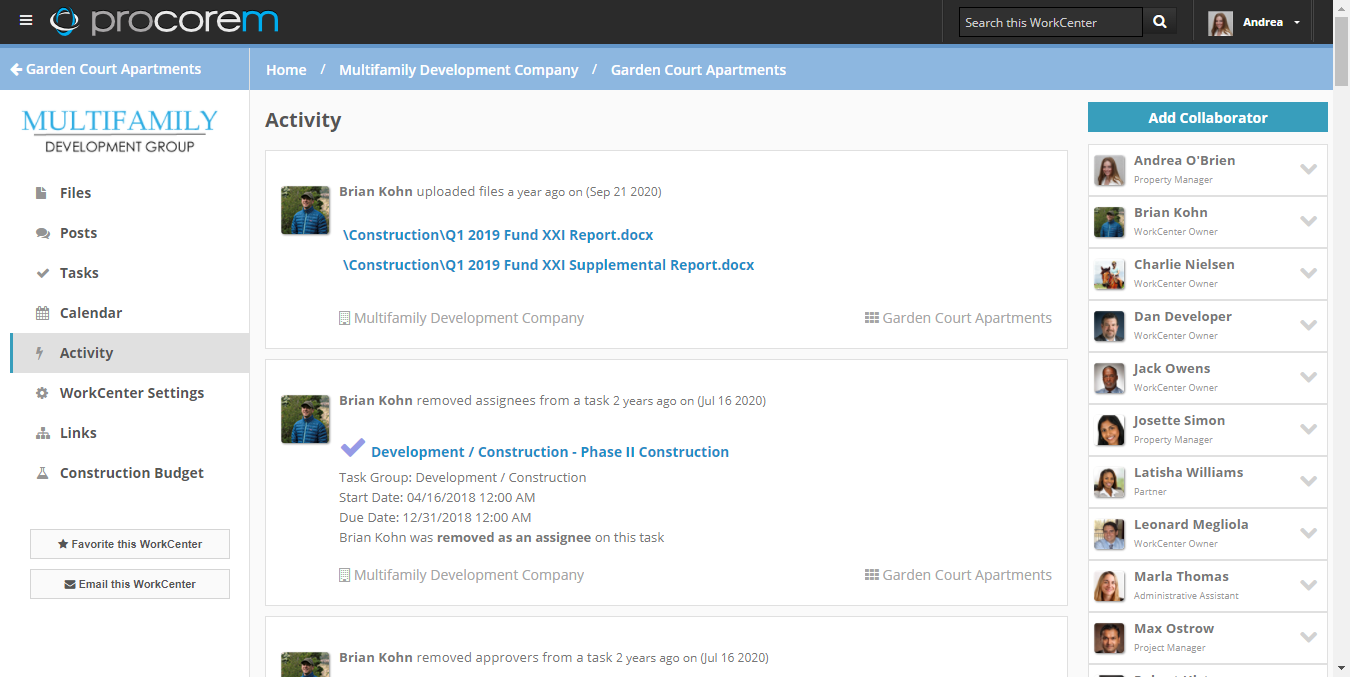 Activity is recorded as users engage with the Procorem platform. A wide variety of actions trigger activity records:
Files—Any time a file is uploaded, downloaded, commented on, deleted, moved, copied, or otherwise engaged with, an activity record will be created.

Tasks—Just like files, when tasks are created, edited, finished, approved, completed, commented on, deleted, or status is changed in any way an activity record will be created.

Posts and Comments—When posts are made on the WorkCenter or comments are made on files or tasks, an activity record is made. Activity will also be recorded when posts or comments are edited and deleted.

Events—Activity will also record important system events such as when folders are created as well as when collaborators are added, removed, leave a WorkCenter, or have permissions changed.
As activity takes place in Procorem, your team members are kept in the loop through email notifications. Notifications can be immediate, sent in a digest, or turned off completely depending on the user preferences. To learn more about notifications, take a quick look at the Notifications in Procorem section of the Help Center.
The only way to delete activity is to fully delete a WorkCenter or an account where the activity is stored. Once WorkCenters or accounts are deleted, they CANNOT be restored. Managing the permissions of your users is an important aspect to control these actions. Check out the Security, Permissions, & Guests section of the Help Center to learn more.
If you would like to remove a WorkCenter from search and common usage, but don't want to lose the activity trail, try archiving the WorkCenter.