Introduction to Accounts and Roles
An account is the top level in Procorem and is typically used to represent an organization or department within an organization. When you create an account, you become a member of Procorem who can create WorkCenters, upload and store documents, create task deadlines, and more. Accounts are your home base and you can have an infinite number of WorkCenters under each account. On top of WorkCenter creation, most administrative functions such as managing People & Permissions, Account Settings, Procorem Subscription plans, adding Apps, and creating custom WorkCenter Roles are all controlled on the account level.
Note
Depending on the subscription plan you have, there may be additional capabilities that are conducted on the account level. For a complete listing of the differences in account plans, visit the Procorem Pricing page.
You can quickly access all of the accounts you have access to by selecting "My Accounts" from the left hand navigation panel on the home screen. Once selected, a list of all your accounts is displayed and you have the option of choosing which account you would like to access.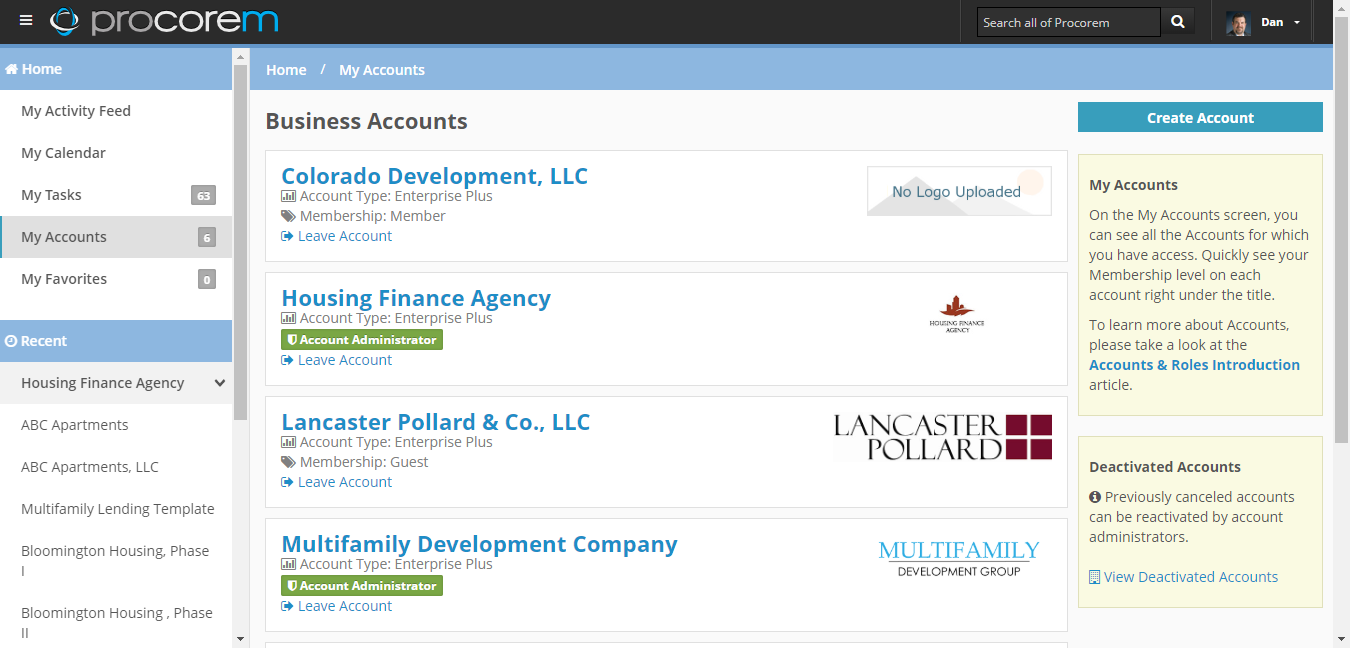 Once you select your account, you will be placed into the "Account WorkCenter" view which will show you all the WorkCenters and categories associated with the account.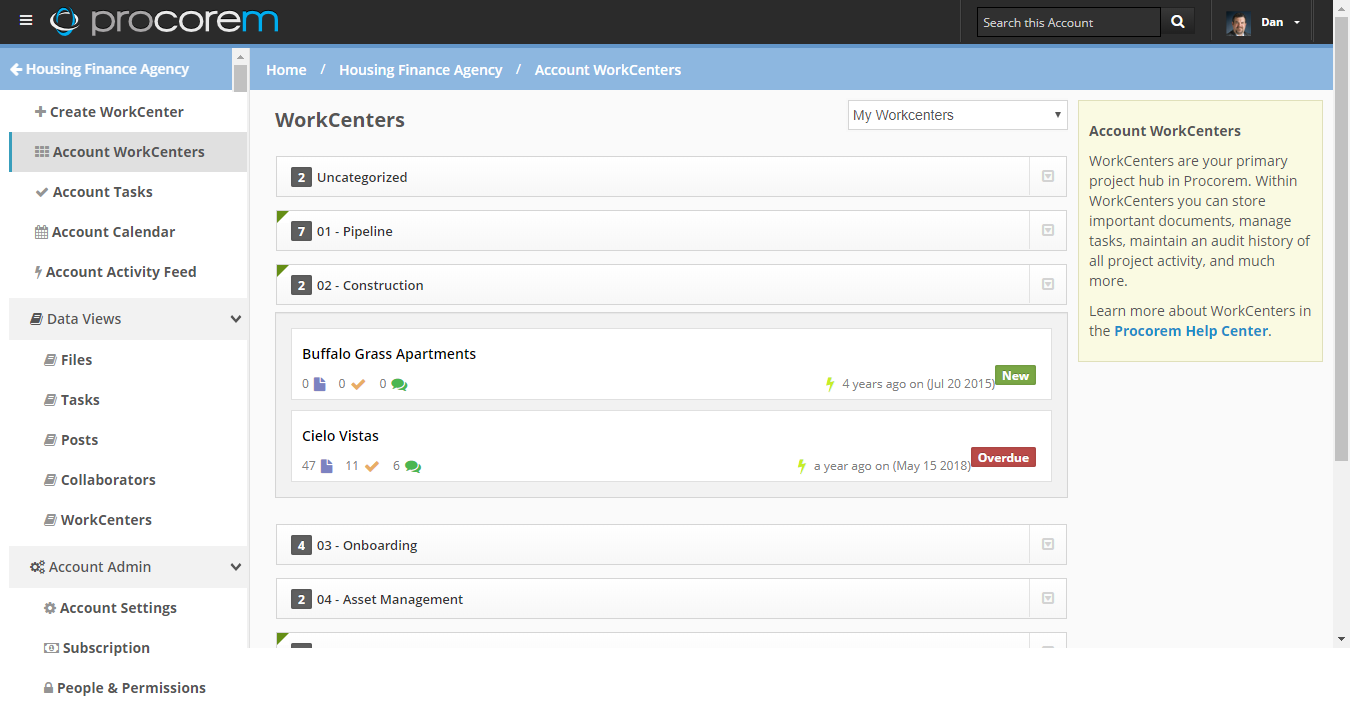 From here you can access core areas of your account as well as manage a variety of settings. On the top of the left navigation panel in this screen, you will have access to a variety of account level data, such as all the WorkCenters, Files, Posts, Tasks, Calendar, and Activity to all the WorkCenters you have access to under that account.
Account Administrators will be given more information on the left navigation panel which includes a variety of Account Settings and management screens.

Access Account Level Data
You can access account level data in a variety of ways:
My Accounts—Click on the account name you would like to access to get to the primary Account View.

Home Screen—Click Go to Account under the recent Account section of the left navigation menu.

Breadcrumb—Any time you are in a WorkCenter, you can quickly head to the Account View by selecting the account name in the Breadcrumb. The account name is the second item listed in the Breadcrumb when you are in a WorkCenter.
Managing information on a project by project basis can easily be performed on each individual WorkCenter within Procorem, but what if you want to see a holistic view of activity across all your projects? For data analysis across all your WorkCenters or projects, look no further than the Account Data Management section of Procorem.
The Account Data Management section is broken out into six core areas:
Account Settings and Configuration
Account Administrators have access to Account Admin functionality.
The account level is the best place to create new WorkCenters which roll up to the master account. This ability is limited to members with the correct WorkCenter permissions. Easily create, categorize, and add descriptions to new WorkCenters from this area.
Check out the Creating a WorkCenter article for more information.
As a member or guest of an account, you have the power to leave the account at any time. To do this, head to the My Accounts screen and click Leave Account.

Note
If you are the only Account Administrator on an Account, you will not be able to leave the account without disabling the account. To learn more about cancelling an account subscription, please review the Account Subscription Help Center article.